Golf News for October 16, 2013 from PluggedInGolf.com
True Linkswear Honors Ryan Moore's Las Vegas Victory
"Signature Series" shoes available for limited time
SCOTTSDALE, AZ (October 15, 2013) – To commemorate his second professional victory, and his first wearing TRUE linkswear, TRUE is releasing four limited edition styles of shoes. The "Ryan Moore Signature Series" features a special color palette combining navy, charcoal, white and sand in two existing styles, as well as the new rebel, a shoe designed specifically for the limited edition run.
Modeled after the style of the TRUE stealth, the rebel also provides the stability of the proto. The rebel low combines the best of both with a treated canvas and leather upper. Built on the sensei outsole, this shoe offers performance and traction, and it features a two-year waterproof guarantee.
The rebel high closely resembles the chukka, but features a suede upper paired with the sensei outsole, ensuring stability and traction. It is a complete all-weather shoe for the fall season.
TRUE also is releasing short runs of its popular sensei and proto styles in charcoal, navy and sand color combinations.
Moore is a co-founder of the company, and he's maintained a hands-on approach with regard to designing and styling each of TRUE's lines. The "Ryan Moore Signature Series" pays tribute to his one-shot victory in last year's Justin Timberlake Shriners Hospitals for Children Open, while offering loyal customers a fresh palette of colors to choose from for the fall.
Oban Introduces The New Kiyoshi Gold With MPT Technology
CHICAGO, IL, OCTOBER 15, 2013: After months of successful performance testing on the PGA and Web.com Tours, OBAN is launching the anticipated Kiyoshi Gold. OBAN's newly released Kiyoshi Gold ranks among the most advanced composite shafts in the world. The Kiyoshi Gold is produced using OBAN's proprietary MultiPlex Design Technology (MPT) to effectively combine a firm butt section and a responsive mid and tip section for unprecedented shaft performance. The Kiyoshi Gold integrates the world's finest graphite materials with a highly complex structural design to achieve expertly calibrated, superior dynamic reactions throughout the swing – resulting in enhanced performance, distance and feel.
"We are excited to launch the Kiyoshi Gold. The Kiyoshi Gold has a firm butt section in combination with a responsive mid-section and tip-section designed for higher launch and mid-spin rates," said Ralph Reichert, Senior Vice President of Sales and Marketing for OBAN. "The Kiyoshi Gold also utilizes OBAN's proprietary technology called MultiPlex Design Technology. MPT Technology reduces ovalization at impact resulting in more stability and better feel."
The Kiyoshi Gold is now available at Authorized OBAN Dealers worldwide.
Port Royal's 16th helps sort out Grand Slam field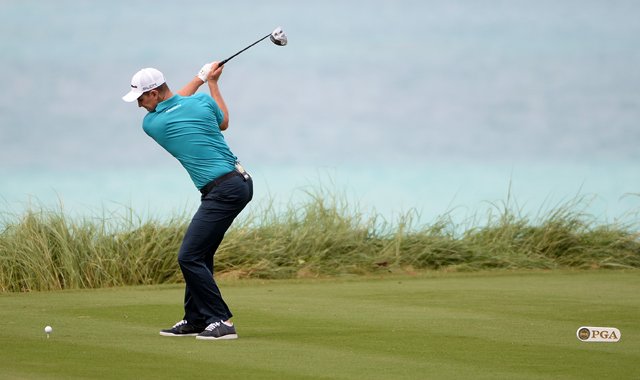 SOUTHAMPTON, Bermuda – It took Jason Dufner just one tour of the course to locate the part of Port Royal Golf Course that required a player's utmost attention.
"Right off the bat, obviously, 16, kind of a signature hole here," Dufner said Monday, the day before the start of the 31st PGA Grand Slam of Golf. "A very difficult hole. Especially late in the tournament, you could see a two-shot or even a three-shot swing on that hole. Pretty easy to make a bogey or a double on that hole, and if you hit a good shot, you can pick up a couple of shots."
Recognized as one of the great par 3s in the world, Port Royal's gorgeous, oceanfront 16th wreaked all kinds of havoc in Tuesday's opening round.
Read full article HERE
The following two tabs change content below.
Matt is the Founder and Editor in Chief of Plugged In Golf. He's worked in nearly every job in the golf industry from club fitting to instruction to writing and speaking. Matt lives in the northwest suburbs of Chicago with his wife and two daughters.
Latest posts by Matt Saternus (see all)